Ikea warns of 'laceration hazard' on children's beds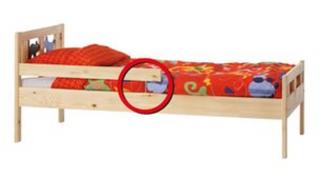 The furniture chain Ikea is recalling thousands of children's beds, because of a design fault.
It follows seven reported cases of a metal rod breaking and exposing sharp edges.
The company warns that the rods could present a laceration hazard, although so far, there have been no reports of any injuries.
The beds involved are called Kritter and Sniglar, although only certain batches are affected.
Customers in 17 countries, including the UK, are being asked to check the date stamp on the headboards or the underside of the beds.
The Kritter junior beds affected have the numbers 1114 to 1322.
The Sniglar junior beds have the numbers 1114 to 1318.
Customers with the affected products are being offered a repair kit or a refund.
They should contact their local stores.
Ikea said 10,000 such beds had been sold in Sweden, but could not say how many had been sold elsewhere.
The countries affected are: Belgium, Britain, China, Czech Republic, Ireland, Israel, Luxembourg, Malaysia, the Netherlands, Norway, Poland, Portugal, Slovakia, Sweden, Switzerland, Thailand and Turkey.