Egypt: Travel firms cancel holidays as violence escalates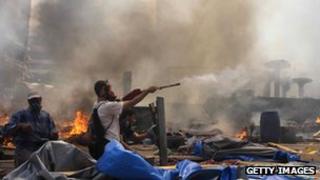 Europe's largest tour operator TUI has cancelled all holidays bought by German customers to Egypt until mid-September.
The move comes in the wake of the country's escalating violence, following advice from the German government.
TUI's rival, Thomas Cook, also announced similar measures for its German customers.
The two companies said holidaymakers who are already in Egypt will be able to stay until the end of their trips.
TUI operates as Thomson in the UK.
Thomson said bookings for its British customers to the Red Sea resorts could go ahead as planned at the moment, adding that the "safety of our customers is always our number one priority".
Thomas Cook has cancelled all excursions from the Red Sea resorts to the tourist areas of Cairo, Luxor, Moses Mountain and Saint Catherine's monastery.
"Sharm el-Sheikh and Hurghada are fully operational and holidaymakers are continuing to enjoy these popular resorts," a spokesperson for Thomas Cook said.
Red Sea calm
Germany's Foreign Ministry advised against all travel to Egypt "in view of the current situation and the unpredictability of developments".
Travellers are especially being warned to avoid Cairo and the main tourist centres in Egypt, such as Luxor, Assuan and the Nile Delta.
Those staying in the resorts on the Red Sea, which are about an eight-hour drive from Cairo, could remain, as the situation there is still calm, the German foreign ministry said.
TUI said that customers wishing to return home should contact their tour managers.
"TUI is monitoring the situation in Egypt very closely and has an emergency task force which is in constant contact with the authorities and the tour leaders on site," the company added.
Stay in hotels
Meanwhile, UK authorities have advised British nationals staying in resorts in Hurghada on the Red Sea to stay in their hotels. The warning followed a death in Hurghada on Wednesday.
"Hurghada police advised tourists to remain in hotel grounds," said a statement from the UK Foreign Office.
"We advise you to follow their advice".
The British travel association, ABTA, calculated that around 40,000 British holidaymakers are currently staying in the Red Sea resorts.
The Russian government announced similar warnings, advising travel agents to stop selling package holidays there for the time being.
Russia has more than 50,000 of its citizens on holiday in Egypt at the moment and a similar number booked to go there in the next few months.
The governments of France, Spain and Italy have made similar warnings.
Speaking on the possibility of evacuating of his country's nationals from Egypt, French Foreign Minister Laurent Fabius said: "We will see how the situation evolves."