HSBC announces five further bank closures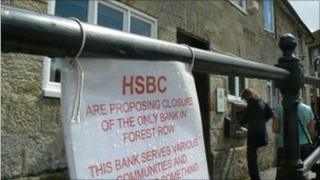 HSBC has announced that five further bank branches will close, in an apparent resumption of its closure programme.
HSBC said the closures were a result of customers using the branch network less than they used to.
The bank has closed more than 200 branches in the UK over the last three years, but only four so far in 2013.
It is thought a further 20 closure announcements will be made before October.
The branches concerned are Grange-over-Sands in Cumbria, Almondbury in West Yorkshire, Highcliffe in Dorset, Cudworth in South Yorkshire, and Shipston-on-Stour in Warwickshire.
HSBC told the BBC that the closures were a "last resort".
"These closures are a result of customers using the branch network less," said a spokesman for the bank.
"We are seeing a shift to customers using phone, internet and mobile devices," he said.
HSBC closed about 70 branches in the UK last year and more than 50 in 2011.
More to come
Derek French, of the Campaign for Community Banking services, expressed some surprise at HSBC's plans.
"These figures suggest that after a pause, they're now galloping ahead with closures, as in previous years," he told the BBC.
But HSBC is not alone in reducing the size of its branch network, with 85 closures in UK towns and cities so far this year.
Royal Bank of Scotland, which includes the NatWest brand, has closed 60 branches this year.
The new RBS chief executive, Ross McEwan, who takes up his post in October, has already hinted that more closures could follow.
Santander will close a total of 48 this year, but has opened three new branches, making a net loss of 45.
However, it said it was only closing branches in towns where it already has a presence with one of the other brands it owns.
Santander took over Alliance & Leicester, Abbey and the Bradford & Bingley.
Barclays has closed 16 branches since the start of 2013.
Lloyds Banking Group, which includes the Bank of Scotland and Halifax, has promised to make no closures before February 2015.