National Crime Agency: Jeremy Outen quits before launch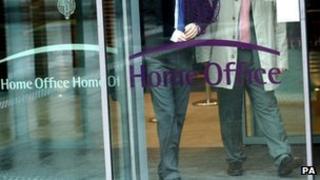 The head of the fraud division of a new FBI-style UK body aimed at fighting crime has unexpectedly quit before he even started the post.
Jeremy Outen, a former KPMG partner, was named by the Home Office in April as the new director-designate of economic crime at the National Crime Agency (NCA).
The agency said Mr Outen had decided not to take up the job for "personal reasons".
The new body will launch this autumn.
The surprise departure of Mr Outen leaves the Home Office just a few months to find a suitable replacement.
In a statement, it said steps were currently being taken to ensure that the position would be filled.
Home Secretary Theresa May announced Mr Outen's appointment in April saying that he had "the skills and experience necessary to tackle the challenges posed by economic crime".
"Getting a senior leadership team in place early is crucial to ensuring the NCA is ready to become fully operational later this year," Ms May said at the time.
Mr Outen, a forensic accountant with 21 years' experience, gave up his role at KPMG's fraud practice last month.
Mr Outen's resignation comes just weeks after the chairman of the Serious Organised Crime Agency (Soca) quit at the start of this month.
Sir Ian Andrews resigned after failing to declare his directorship in a management consultancy company, Abis Partnership, in a possible conflict of interest.
The National Crime Agency, once launched, will replace Soca.