UK tourists bring Portugal economic sunshine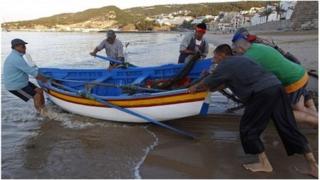 The Portuguese economy is showing signs of recovery, and on the streets of Faro its people are celebrating.
The annual week-long international folk festival, Folkfaro, is entertaining thousands near the Algarve capital's harbour, where according to those selling everything from candy floss to caipirinhas, business is at its best for years.
In the last few months at least, something has improved.
Portugal outperformed the rest of the eurozone with economic growth of 1.1% between April and June, driven by a 6.3% increase in exports.
Shouting
One small-scale exporter is cocktail-juggling Jaime.
As he turns up the South American music in his stall to try and drown out the traditional Farense fare on stage, he shouts that the rise is down to more tourists choosing the Algarve over rival resorts like Egypt and Tunisia because of political instabilities there.
In a sign of increasing confidence elsewhere in the eurozone, it has been the Irish that have led the charge to south Portugal. Visitors from Ireland increased by 27% in the first half of the year.
Figures from the Algarve Hotels and Tourism Entrepreneurs Association, which represents 95% of hotels in the region, also show that there were 10% more people from the UK visiting Faro and beyond.
Its president, Eliderico Viegas said: "British tourists represent about 50% of traffic through Faro airport, so when British tourists are doing well, the Algarve does well."
'Find a husband'
But while the hoteliers are seeing an upturn in business, it seems workers will be waiting a while longer for better news.
Tanya is a housekeeper at a hotel in the centre of Faro: "It is normal to earn around 500 or 600 euros (£425-510) a month.
"Usually, just one person can't live with that amount of money. So you need to find a husband, or live with your parents."
Mr Viegas says the problem is that, although visitor numbers are up, hotels have low profit margins.
"Margins are very low because of the competitors and high taxation. Turkey, Egypt and Tunisia have low taxes, but also Spain and Greece, our main competitors.
"The question is seasonality, because many hotels cannot afford to be open all year round, closing during several months in the winter," he adds.
Hugo Duarte sells tickets for boat trips between studying for his Masters degree in bioengineering at the University of the Algarve.
"It's getting worse for the working classes. The average wage is around 600 euros and you still have to pay taxes," he says.
"My parents make 1,500 euros a month, we are a family of four, I have to work here to help them."
Sardines and strain
Tourism is not the only low-wage industry.
While the Algarve is famous for its beaches to the west of Faro, to the east, in Olhão, Jorge Ferreira would like to pay workers at his sardine canning factory, Conserveira do Sul, more than he currently does.
"I cannot pay them more because I have to pay an extra 40% of their wages to the government for social security and taxes.
"We have a good social security system here in Portugal, but the financial crisis has put a strain on it."
But there may be some light at the end of the tunnel for those packing the sardines in their tins.
Jorge is working on two big deals with Chinese distributors. If they come off, he says improved margins will help him give his staff a pay rise.