Some pension pay-outs 23% lower than rivals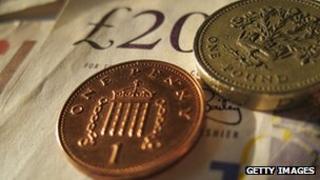 Some of the UK's biggest insurance companies are offering pension pay-outs that are up to 23% lower than the leading rates.
The disparities were revealed by the Association of British Insurers (ABI) in a new tool on its website.
It is designed to help people nearing retirement find the best annuity rate, which is used to provide an income for the rest of their lives.
But it also shows that some annuities appear to provide poor value for money.
Based on a pension pot of £18,000 for a 65-year-old, the Reliance Mutual offers an annual income of £1,099.
But Scottish Widows, part of the Lloyds Banking Group, offers £839, an amount that is 23% lower than that provided by Reliance Mutual.
"Over 25 years, that is a significant gap," said pensions consultant David Robbins of Tower Watson.
'Shop around'
However, annuity rates will vary, according to individual circumstances.
That includes a customer's postcode and state of health, as well as whether they also wish to provide for a partner after their death.
The ABI website tool shows sample rates for 27 UK insurance companies, which are ABI members.
"Shopping around is vital," said Tom McPhail of financial services firm Hargreaves Lansdown.
"Pension savers have to make sure that they get the best possible annuity and even consider whether they want to buy an annuity at all," he said.