US manufacturing growth 'at five-month high'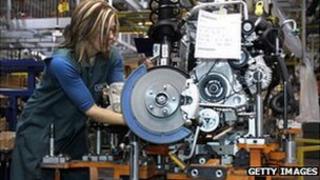 Activity in the US manufacturing sector grew at its fastest pace for five months in August, with a pick-up in new orders, a survey has indicated.
Markit's purchasing managers' index (PMI) rose to 53.9, up from 53.7 in July and its best showing since March. A reading above 50 indicates growth.
The index for new orders rose to 56.5, a seven-month high, from 55.5 in July
Analysts said the figures pointed to stronger US economic growth for the rest of the year.
"Hopefully the faster growth of new orders seen during August will translate into increasingly strong production gains in coming months, and also boost hiring," said Markit's chief economist, Chris Williamson.
The Markit survey is a preliminary report, based on replies from about 85% of the US manufacturers surveyed. A final reading will be released on 3 September.
The positive news comes as economists and investors speculate as to when the US Federal Reserve might begin winding down its huge monetary stimulus programme.
Increasingly, investors expect the Fed to start slowing its monthly bond purchases this year, with many betting the central bank could begin the process as soon as September.
Also on Thursday, separate PMI surveys showed signs of economic improvements in the eurozone and China.
Markit's August index for the eurozone showed that the pace of growth hit a 26-month high, led by stronger German exports and an expansion of the services sector across most of the region.
And in China, HSBC bank's PMI index showed a sharp rebound in the country's manufacturing sector in August.