John Lewis staff get £40m pay top-up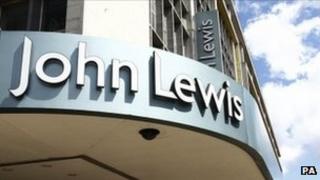 John Lewis will spend £40m compensating staff who were inadvertently underpaid for working on Sundays and Bank Holidays during the past seven years.
The department store group will make one-off compensation payments to 69,000 of its employees.
The amount will vary depending on pay grade and shift pattern, with more than half receiving less than £120. Others will receive well over £1,000 each.
The partnership will also add £7m to future pension liabilities.
John Lewis said the error occurred because its pay calculations did not comply correctly with employment laws.
"As soon as we established that we were not implementing the Working Time Regulations correctly, we worked quickly to make the repayments to our partners in a way that is both fair and responsible," said personnel head Tracey Killen.
According to Paula Whelan, employment law partner at Shakespeares, John Lewis is not alone in being caught out by the regulations, which she said needed to be simplified.
"Calculating holiday pay is already a difficult process, which has become more complicated in the last couple of years because case law is no longer consistent with the literal wording of the regulations," she said.
"To aid employers and employees, the time has come to reconsider, amend and potentially simplify the regulations."
The £40m cost of the redress includes national insurance and other expenses, as well as the actual payments received by staff at its department stores and Waitrose supermarkets.
It will not be deducted from the current year's bonus pool, which is paid out each year to the staff, who are also partners - effectively joint owners - of the company.
Last year's bonus pool came to £210m, and was shared out among about 84,700 staff.
The John Lewis partnership operates 39 John Lewis stores and 295 Waitrose supermarkets in the UK.