Abercrombie and Fitch shares slump as sales fall 10%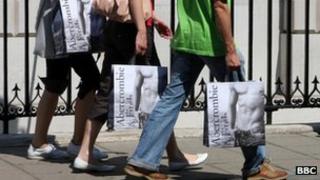 Shares in US clothing retailer Abercrombie and Fitch fell 17.7% in Thursday trading after the release of below-forecast figures.
Known for its casual clothing for teenagers, Abercrombie said sales had fallen 10% in the second quarter of this year compared with the same period a year earlier.
Predictions from Wall Street analysts were for a 2.5% decline.
The company has also released a weak profits forecast for the third quarter.
Mike Jeffries, chief executive and chairman of the company, said in a statement that the second quarter was tougher than expected and that "continued softness" in the female business meant a weaker outlook for the rest of the year.
However, analysts cited problems with perception of the brand among its core teen market.
Rahul Sharma, of retail consultants Neev Capital, said there was fatigue with logo-dominated clothing.
"The taste of the teen market is fickle, and so this is always a difficult space for retailers, but at the heart of it, it's a problem with the offering," he said. "The appeal of the logo-heavy, preppy product is fading."