German budget surplus jumps in first half of year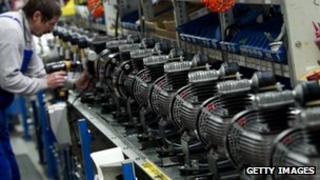 Official figures show Germany's budget surplus rose to 0.6% of gross domestic product (GDP) in the first half of the year, boosted by higher tax income.
The government pulled in 321.4bn euros in taxes, 3.8% more than a year ago thanks to its steady employment rate.
The German Federal Statistical Office, Destatis, said the surplus was 8.5bn euros (£7.3bn; $11.3bn) in the period between January and June.
The figure was higher than the surplus for the same period a year ago.
For the whole of last year, Germany's budget surplus was 0.2% of GDP.
Budget surpluses are rare among European countries. Many have deficits of more than 3% of GDP, despite an European Union limit of that level.
'Catch-up'
In a statement, Destatis said: "The budgets of central government, state governments, local government and social security funds benefited from a generally good employment situation and a stable economic development in the first half of 2013 compared with other European countries."
The agency also confirmed a preliminary estimate of German GDP of 0.7% growth in the second quarter, giving an annual growth rate of 0.9%.
It said this was partly thanks to "weather-related catch-up effects following the unusually long and cold winter".
Johannes Gareis, an economist at Natixis, said he was expecting more modest expansion in the second half of 2013.
"For the rest of this year, we expect the German economy to continue to grow, albeit at a slower rate," he said.
But others were more optimistic.
Holger Sandte, an economist at Nordea, said: "The composition of the growth is very good. It is being driven more strongly from within, which is good for Germany and the eurozone.
"It is also positive that firms are investing more in equipment and are not so hesitant anymore."