US house prices continue strong growth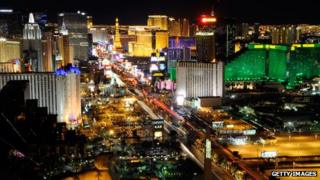 Growth in US house prices remained strong in June, according to a closely watched survey.
The Standard & Poor's/Case Shiller index showed that prices were 12.1% higher in June compared with a year earlier.
The index measures single-family home prices across 20 cities, and found price rises in all of them.
But the pace of growth was slightly below the 12.2% annual growth rate measured for May.
House prices in Las Vegas and San Francisco saw the biggest increases, rising nearly 25% over the year.
"Overall the report shows that housing prices are rising but the pace may be slowing," said David Blitzer, chairman of the index committee at S&P Dow Jones Indices.
"With interest rates rising to almost 4.6%, home buyers may be discouraged and sharp increases may be dampened."
But analysts said it was too early to tell if higher mortgage rates in the US were beginning to exert some downward pressure on the market.
Recent sales figures suggest higher interest rates have been slowing refinancing activity.
"The volatility of the numbers mean it is much too soon to call this definitive evidence of a slowdown in the pace of price increases, still less evidence of the impact of the rise in mortgage rates," said Ian Shepherdson, chief economist at Pantheon Macroeconomics.
"We will be watching these data closely over the next few months. For now, though, we think these numbers could simply be reflecting a small but real change in the balance of demand and supply."