Wal-Mart: same-sex partners to get health benefits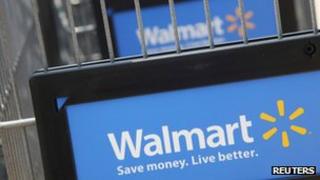 Wal-Mart, the largest private sector US employer, is to offer health insurance to the same-sex partners of its staff.
The world's largest retailer has about 1.3 million staff in the US, although the company said it did not know how many would use the benefits.
Wal-Mart's move brings it into line with many other big US firms that have already begun extending such benefits.
In June, the Supreme Court ordered the US government to recognise same-sex marriages in states where it is legal.
"We have chosen to offer benefits to an associate's same- or opposite sex spouse, or to an unmarried partner, whether of the same or opposite gender," said Wal-Mart spokesman Randy Hargrove.
"Unmarried partners, whether same sex or opposite, are covered if they live together in an ongoing exclusive committed relationship similar to marriage and have been together for at least 12 months, and they intend to continue sharing a household indefinitely."
Despite the Supreme Court's ruling, Mr Hargrove said the change was a business decision.
"Since we operate in all 50 states we thought it was important to develop a single definition for Wal-Mart associates in the US so that we could ensure consistency in our markets across the country."
More than half of the retailer's staff are on its healthcare plans, and membership is dependent on how many hours staff work and how long they have been at the company.
Wal-Mart's US employees will pay 3% to 10% more for their medical coverage next year, depending on the plan, Reuters news agency reports.