British Chambers of Commerce: Recovery gaining momentum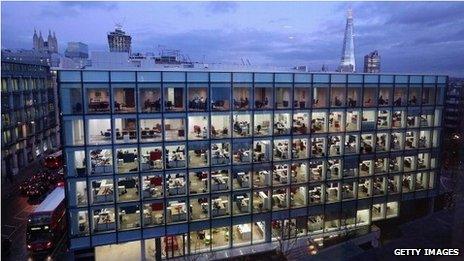 The British Chambers of Commerce has sharply upped its 2013 growth forecast, saying the economy is gaining momentum.
The business lobby group now expects 1.3% growth this year, up from 0.9%. Its forecasts for the next two years were upped to 2.2% and 2.5%.
But the BCC also warned of overseas risks to the more positive outlook, notably those posed by the eurozone, the Middle East and China's slowdown.
"Unfortunately the recovery is not yet secure," said BCC head John Longworth.
"We have had false dawns in recent years and although this upturn appears to be on stronger ground, we must be aware that complacency could lead to setbacks," the organisation's director general said.
The services-led upturn that has become increasingly evident in recent months comes after two and a half years in which the economy almost completely stagnated.
The BCC said it expected the unemployment rate, currently 7.8%, to fall to 7.5% of the workforce by the autumn of next year and to reach 7% by the end of 2015.
The 7% figure is particularly important as the Bank of England has said it would not raise interest rates until unemployment falls below it - something that the BCC now expects to happen nine months earlier than the Bank's own Monetary Policy Committee does.
The MPC received praise for its recent adoption of "forward guidance" - providing explicit advance warning of when interest rates might rise - which the BCC said helped provide businesses with more confidence to plan and invest.
The lobby group said the government could do more to support the recovery by improving the access for fast-growth business to loans, providing financial support to the building of new infrastructure and by helping exporters gain access to foreign markets.
The BCC's chief economist David Kern said Britain's export sector was already doing better than many realised, with the long-term trade deficit having halved in the last three years, thanks in large part to the sale of services overseas.
"While we would like to see more growth coming from investment and net trade, we should not be too concerned that consumer spending is helping to drive the recovery. It is better to rely initially on the consumer than to have no growth at all."
However, he cautioned that the government's mastering of its finances continues to be a "long and painful process".
"Tax receipts are inadequate as a result of sharp falls in oil and gas reserves and cuts in current spending will be needed until 2019 at the earliest."
Related Internet Links
The BBC is not responsible for the content of external sites.