Japan consumer price rises pick up pace on energy costs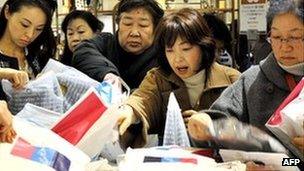 Consumer prices in Japan rose at the fastest pace in nearly five years in July, as policymakers' attempts to end deflation appeared to pay off.
Consumer prices, excluding food, rose by 0.7% from a year earlier.
However, the faster inflation was mainly stoked by the rising cost of fuel imports due to a weak yen, rather than by an increase in domestic demand.
Japan has been trying to end years of deflation, or falling prices, seen as a major drag on its economic growth.
While falling prices may sound good, they hurt the economy as consumers and businesses tend to put off purchases in the hope of getting a cheaper deal later on.
Stagnant wages and revenues also make it harder for borrowers to pay off their debts
Policymakers have unveiled a series of measures in recent months to try reverse the trend of falling prices - something that Japan has been grappling with for the best part of the past two decades.
These steps, which include doubling the country's money supply and doubling its targeted inflation rate to 2% per year, have resulted in a sharp decline in the Japanese currency.
The yen has fallen about 20% against the US dollar since September last year - making imports more expensive. One of the areas that has felt the biggest impact of the yen's weakness has been fuel imports.
Japan has suffered a shortage of energy since the closing of almost all the country's nuclear reactors, following the earthquake and tsunami of 2011. As a result, it has been importing much of the energy it needs.
According to the latest data, fuel, light and water prices rose 6.4% in July, from a year earlier. If food and fuel are taken out, consumer prices actually fell 0.1% from a year ago.
"The majority of gains in consumer prices still come from energy, and the upward pressure on energy prices is likely to start to slow in coming months," said Shuji Tonouchi, senior fixed income strategist at Mitsubishi UFJ Morgan Stanley Securities in Tokyo.
He added that while the central bank looked to be on track to achieve its target of 2% inflation, "I would not get overly optimistic on prices just yet".
Other data released on Friday showed that industrial output in Japan rose 3.2% in July, from a year earlier.