Hermes profits boosted by global luxury goods demand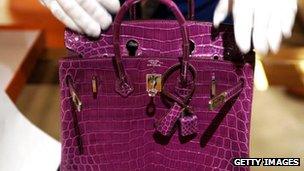 Luxury goods firm Hermes, famed for its celebrity favourite, the Birkin bag, has reported a jump in profits.
Net profit jumped 14%, while sales increased by 11% for the first half of 2013, compared with the same period last year.
Operating profit for the period beat forecasts at 584.1m euros (£498m).
The group said that demand for silk scarves had leapt, while the only weakness in the results came from a fall in watch sales.
The Birkin bag, which is named after the actress and singer Jane Birkin, has a starting price of £4,500. The record price for a Birkin was set in 2011, when a red crocodile skin version sold for $200,000 (£129,000) at an auction in Texas.
Hermes said that its sales growth was "balanced" throughout the world. However, it reported a 17% increase in demand from Asia, excluding Japan.
The company said that the Chinese market in particular continued to "display great vitality".
Despite continuing economic problems, European sales were also robust, increasing by 14% outside France and 13% in the company's native country.
Hermes, which originally made horse saddles and riding boots, has remained a family-run business, despite hostile takeover approaches.
Related Internet Links
The BBC is not responsible for the content of external sites.