US consumers spend less than forecast in July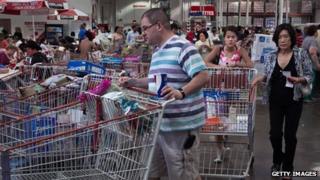 US consumers barely increased their spending in July, as workers saw their salaries shrink because of government spending cuts.
Spending increased by 0.1%, according to the US Commerce Department.
Big-ticket items, such as cars and fridges, saw the biggest declines.
Consumption makes up 70% of the economy, and the run-up to the new school year, starting in July, is typically the second-biggest shopping period of the year.
Large retailers such as Wal-Mart, Macy's and Kohl's have warned in recent earnings reports of sluggish consumer demand, as US job growth continues to lag and wages stagnate.
Further uncertainty over the timeline of the US Federal Reserve's decision to slow down its policy of propping up the US economy by keeping rates low has led to stock market volatility and increasing mortgage rates.
US stocks are set to end their worst month in a year later on Friday.
Separately, a final reading of US consumer sentiment data showed a drop, after a four-year high in July.
The August reading fell to 82.1 from July's 85.1, as concerns over the crisis in Syria led to further worries about oil and gas prices in the autumn.
The declines come just a day after US second-quarter GDP was revised upwards to 2.5% from 1.7%, surprising many economists.