Rupee falls sharply amid new economic uncertainty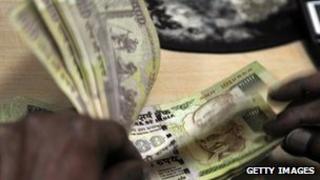 The rupee fell by almost 3% against the US dollar amid uncertainty over the Middle East and a gloomy forecast for economic growth this year.
Goldman Sachs cut its GDP growth forecast for India to 4% from 6%.
It also expects the rupee, Asia's worst performing currency this year, to sink to 72 per dollar within six months.
Ratings agency Standard & Poor's said that there was a more than one-in-three chance of a ratings downgrade for India within the next one to two years.
In the April-to-June quarter, India's economy grew at a rate of 4.4%, compared with the same period in the previous year, the slowest quarterly expansion in four years.
August also saw India's manufacturing sector shrink for the first time for four years.
India's main stock index, the Sensex, fell by 651.47, or 3.45% to 18234.66 during mid-afternoon trading.
Russian reports of missile launches over the Mediterranean sea accelerated the downward trend in trading.
Israel later revealed that it had carried out a joint missile test with the United States in the area.
The rupee's depreciation is a major challenge for the country's new central bank governor, Raghuram Rajan, who takes over from Duvvuri Subbarao on Thursday.
The currency has been depressed by India's widening current account deficit,
The current account deficit is a broader measure than the trade deficit, and includes cross-border income flows on investments.
As well as weakening the currency, the deficit can also act as a drain on the central bank's foreign currency reserves.