Drivers driven to fuel price desperation, says AA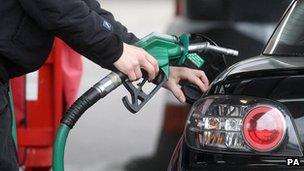 Some drivers have had to pawn possessions to pay for car fuel, a survey has revealed, as successive price rises have driven them to "fuel price desperation".
Other drivers have become overdrawn, dipped into savings, or borrowed from friends and family to pay for fuel, the AA/Populus survey said.
Of the AA's 18-24-year-olds members surveyed, 4% had pawned a possession in the past 18 months to keep motoring.
Some resorted to payday loans.
"Fuel price desperation has created a new and sinister twist to the phrase 'driven into debt," said AA president Edmund King.
"Our survey has exposed the heavy impact of fuel price surges and which groups of drivers are particularly vulnerable" and had uncovered "unsettling evidence of fuel market-inspired deprivation", he said.
Average UK petrol prices have risen by nearly 3p a litre since a low of 134.6p in June, said the AA.
The average cost of a litre of unleaded petrol is now 137.5p; while diesel is 141.9p per litre.
Related Internet Links
The BBC is not responsible for the content of external sites.