German exports record unexpected fall in July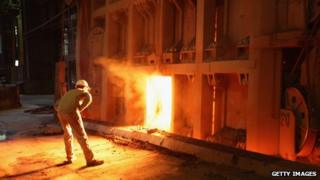 German exports unexpectedly fell in July as the nation delivered less to its eurozone neighbours.
Seasonally adjusted exports fell by 1.1% in July from June. Economists were expecting a 0.7% rise.
Exports to eurozone nations, which buy approximately a third of Germany's exports, fell by 0.7% compared with the same month last year.
Germany's exporters helped the nation avoid recession and are behind the acceleration of economic growth.
"It's a disappointment, but the data has fluctuated a lot in recent months," said Stefan Schilbe, from HSBC Trinkaus.
"But we can be hopeful that the picture will change for the better in coming months.
"Leading indicators in industrial states - from the United States to Britain and the eurozone states - are pointing upwards," he said.
Spain's pain
Underlying the weakness in Europe, Spanish factories reported another month of falling production.
Figures for July show that factories and utilities cut production at an annual rate of 1.4%.
It is the 23rd month of falling industrial production.