Cyprus economic contraction worst since mid-1970s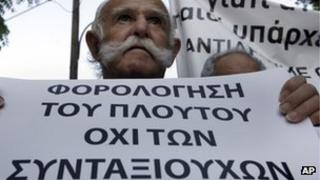 The struggling economy of Cyprus has suffered its worst annual contraction since the mid-1970s, according to official figures.
Its economy shrank 5.9% in the second quarter compared to the same period last year, more than expected.
And it fell 1.8% between April and June compared with the first quarter - the eighth successive quarterly fall.
In March, the European Union and the International Monetary Fund agreed a 10bn-euro (£8.5bn) bailout for Cyprus.
The news came on the same day Cypriot MPs adopted legislation demanded by international creditors in return for the second instalment of the bailout money.
Cyprus received the first tranche, worth 3bn euros, in May.
The legislation, rejected in an earlier vote, will see the country's co-operative banks come under the direct supervision of the central bank.
According to the European Commission, the European Central Bank, and IMF, the Cypriot economy is expected to contract 8.7% in 2013, 3.9% in 2014, before recovering 1.1% in 2015.