IMF boss calls for speedy EU bank union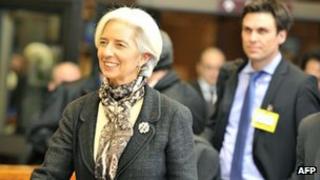 The head of the International Monetary Fund has called for a proposed European banking union to be completed quickly.
Speaking at a conference in Paris, Christine Lagarde described the euro area as a "beautiful ship" but said it was not ready to sail in rough waters.
The banking union project is designed to prevent a repeat of the global banking crisis.
It could include a single banking supervisor, and pool national resources to rescue banks.
"We very much think of the euro area as a beautiful ship that has been built, nurtured... for the soft seas, but which is not yet completely finished for the rough ones," Ms Lagarde told delegates.
"A lot has been done in relation to banking union. If I have a message today it is that that particular part of the ship needs to be finished, needs to be completed and speed is of the essence."
How banking union will be achieved is unclear, with some countries maintaining it would require a change to EU treaties.
In July, the European Commission outlined plans for the authority that will be responsible for winding down any of the eurozone's 6000 banks that get into trouble.
Under the single resolution mechanism (SRM), a new body will be given power to close or restructure any eurozone bank that runs into trouble.
This would override the decisions of authorities in individual EU states, which are currently in charge of closing failed banks.
Critics have warned that this new arrangement could mean national governments being required to hand over taxpayers' money to help rescue banks.
Under the SRM set-up, a 55bn-euro ($70.5bn; £47.3bn) fund will be established, financed by levies on banks. As money is drawn from the fund to shore up banks, further levies would be imposed to top it up.
But Germany, the biggest economy in the eurozone, has voiced its objections to the creation of a single authority, arguing that it would require a new European treaty that may take years to agree.