Sporting end game for job-hunting athletes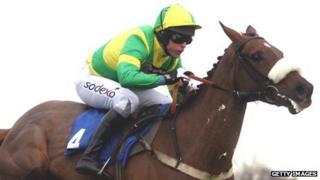 The career opportunities available to former sports people after they call time on their playing days have come a long way since the era of choosing between either the pub or hospitality trades.
Nowadays there is much more planning, career advice, vocational courses, and all-round general support available for when the final whistle blows.
"The transition is always difficult, and it is very similar across the different sports," says Brendan Batson, chairman of the Professional Players Federation, the UK umbrella organisation for professional player associations.
"You are leaving a very physical, dressing room environment, and going into the outside world."
Batson, a former Arsenal, Cambridge United, and West Bromwich Albion full-back, says the key to making the difficult move from the somewhat closed world of sport into the world of business, is "preparation during your playing career".
Injury focus
One former sports person, who made the tricky crossover, and with unusual results, is ex-jockey Mark Bradburne, who came third in the 2004 Grand National.
University-educated and a trained physiotherapist, he chose to become an electrician after hanging up his National Hunt saddle in December 2011.
"When you are doing sport, it is hard to think outside of that," says the 37-year-old.
"But most jockeys have some time on the sidelines injured, and that was when I had time to think about the future and giving up sport at some stage."
He had started riding as an amateur while doing his degree.
"I slowly realised that I would not be a great physiotherapist. So I thought I would look to build a successful riding career," he says.
When his sporting career ended, he did not want to go into physiotherapy. He says starting again at a junior level would have paid about £18,000 a year, not enough from him to support a wife, two children, and house.
With support from the Jockeys Employment and Training Scheme (JETS) he realised he wanted to become an electrician.
He did a high-intensity course, and passed his City & Guilds, and is Part P qualified.
"I am still learning all the time. I am was lucky to have experienced the world of learning before, but I think other jockeys - who all have brains - might not find it so easy." says the Scot.
He is self-employed, and hopes, if business does well, he will be able to offer training schemes to other jockeys.
After 85,000 miles on the road a year as a jockey, much of his work now comes from the racing fraternity around the town of Lambourne.
"I have probably worked in 90% of the yards," he says. "It means I can't charge the top commercial rate, but I never have a day off either.
"I am lucky to have retired on my terms. My opportunities were getting less but I could have ridden for another year. But if people are forced to retire through lack of opportunities, or age, or injury, then they might struggle."
Regimented life
Former Bath prop David Barnes is director of rugby and player development manager at the Rugby Players' Association (RPA).
"The biggest hurdle - one I have been through - is you have an identity as a sportsman, and then you lose that identity and become someone totally different," he says
He says when players start a new career they often find they are behind their peers in terms of experience, and hence pay - which can drop steeply in the early years outside sport.
"In sport you live in a very regimented sphere, you are given schedules, and know exactly what is expected of yourself and team mates," he adds.
"When you move into a different role, there is that lack of the 'constant'. A lot of players find this very hard."
He says that the down-time enjoyed as a player also disappears when they move into a nine-to-five job.
"It effects not only the player, but also his family - he may not be able to look after the children as before. There can be a lot of domestic upheaval."
However he points to the positives, and says sports people have many transferable skills - including dedication and professionalism, and "the habit of doing things right, and to the best they can".
"In sport they have had to work hard. Players are good at teamwork and are very committed."
He says ex-players have gone into a wide range of careers, from lawyer to to grass seed salesman.
Winter opportunities
Jason Ratcliffe, a former Surrey batsman, is now deputy chief executive of the Professional Cricketers' Association (PCA).
He says cricketers have a very close and loyal working relationship.
"When I analysed it I realised I was not chatting to many people apart form my team mates," he recalls.
He says this can often leave cricketers without a network outside the sport that they can tap into after their playing days.
"We encourage players to get out and talk to other people, for when the transformation from playing days to workplace days." he says.
"The players who are savvy are the ones who, when they are making a sporting name, are also going to functions and seminars and meetings, talking to corporate partners and others who might be able to help with careers."
He also says cricketers generally have more time free in the winter than other sports, and can use that time to seek work experience or vocational training.
"We advise players to use their spare time to research what they want to do with their future," says Mr Ratcliffe.
Despite the many courses and training opportunities which player associations offer, there will be those - such as former footballer Paul Gascoigne - who find leaving their sport traumatic.
"We give a lot of support to former athletes but sometimes you can have everything there and individuals have their own personal issues," says Brendan Batson.
"But there is support for those individuals who fall on difficult times."