Accounts drained by payday lenders, says Citizens Advice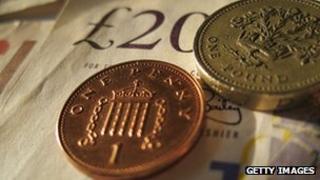 Some borrowers of payday loans are having their accounts drained of funds because of automatic withdrawals by lenders, a charity has said.
Some lenders use continuous payment authorities (CPAs) - recurring payments from accounts - to make sure repayments are made.
But Citizens Advice said that 90% of these customers may have grounds for complaint about unfair treatment.
It analysed 665 cases of borrowers who approached the charity for help.
Rule change
CPAs are commonly used by gyms and magazines to take renewed subscription payments automatically.
They are also used by payday lenders to collect repayments directly from someone's bank account.
CPAs should not be used to take money without warning, but a lender has some flexibility over when and how much money they can take from a borrower's account.
However, since 2009, banks and building societies have been obliged to cancel CPAs when asked to do so by their customers.
In June, the City watchdog - the Financial Conduct Authority - said that some banks and mutual societies had not been doing what they were asked, forcing customers to cancel the payments with the lenders themselves.
However, banks have now promised to stop the payments when customers tell them to.
Citizens Advice chief executive, Gillian Guy, urged people to ensure they fight for their rights.
"People can feel powerless when unscrupulous payday lenders use CPAs to run amok in their bank accounts. Now, we're reminding consumers that they can fight back," she said.
"Misuse of CPAs can leave people without money to eat, pay rent or get to work, and can force people further into debt to stay afloat. If you've been badly treated, and the lender hasn't put right their mistake, then you can complain to the Financial Ombudsman."
Trade bodies for the payday lending industry have said that they have codes of conduct to ensure that customers are treated fairly.