Regulator v Co-op ex-boss: not a 'vendetta'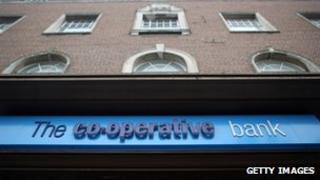 I understand that Andrew Bailey, chief executive of the Prudential Regulation Authority, has written to the Treasury Select Committee, responding to claims by the former boss of Co-op Bank that he wrongly characterised the source of Co-op Bank's woes.
Neville Richardson told MPs on the select committee that Mr Bailey was mistaken when he said that bad lending by Britannia Building Society - which Mr Richardson previously ran and which merged with Co-op Bank in 2009 - was the main reason why Co-op Bank now needs to be rescued (see here).
Strikingly, Mr Bailey has chosen to respond more or less straight away.
I have learned that he has written a letter to the chairman of the Treasury Select Committee, Andrew Tyrie, saying that he has no wish to conduct a "vendetta" against Mr Richardson (an interesting choice of words), but he then sets out numbers on Co-op Bank's losses which he thinks prove his case.
Here are the relevant stats, according to Mr Bailey.
In the 18 months to the middle of 2013, Co-op Bank incurred losses on its loans of £970m (a short billion pounds - ouch), comprising £288m of losses on core loans, and £682m on non-core loans (or loans no longer regarded as central to what Co-op Bank does).
Of these, 75% of the non-core loan losses stemmed from the Britannia book in 2012, and 85-90% of these losses in 2013 were a Britannia vintage.
Which is why Mr Bailey feels confident in saying that more than half the loan losses over the past 18 months came from Britannia.
To be clear, loan losses weren't the only source of Co-op Bank's problems. There were also, for example, the expensive write-offs of an IT system.
But Mr Bailey feels confident in his statement that Britannia was a significant cause of the hole at Co-op Bank.