John Lewis reports 'strong' first-half results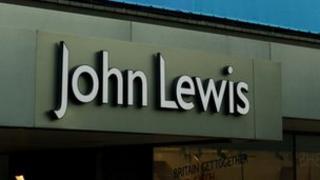 The John Lewis Partnership, which owns the John Lewis and Waitrose supermarket chains, has reported a "strong" set of half-year results.
Underlying profit rose 3.9% to £115m (137m euros; $182m) for the six months to 27 July on revenues of £4.22bn.
But pre-tax profits fell 38.5% to £68.5m after a review of holiday pay policy cost the company £47m.
Group sales were up 7.3% to £4.73bn after strong performances from the company's online divisions.
Waitrose.com reported a sales rise of 40.6%, while johnlewis.com enjoyed at 17.1% increase.
Sir Charlie Mayfield, chairman of the employee-owned group, said the "strong first half" was "slightly ahead of our expectations".
After six weeks of trading in the second half, "gross sales are 5.3% higher than last year", he said, as "the market has shown signs of improvement."
Next plc
In other retail news, Next, the high street clothes and home products retailer, reported a 8.2% rise in pre-tax profits to £271.8m for the six months to July 2013.
Total revenue rose 2.2% to £1.68bn, boosted by online sales through its Next Directory arm and an expansion in retail space, the company said.
Next said business conditions are "marginally more benign", but will remain "subdued" for at least a year.
A more buoyant housing market was proving good for its home products business, it said, but the company warned that a decline in consumers' earnings after inflation could "rule out a strong recovery in the consumer economy".
Chief executive Lord Wolfson said: "The Group has made good progress in the first half, delivering profits at the upper end of our expectations.
"Looking ahead the economy looks set to improve moderately, albeit at a slow pace and with the risk that credit easing may not translate into growth in real earnings."