Wetherspoon sees record sales of ales and ciders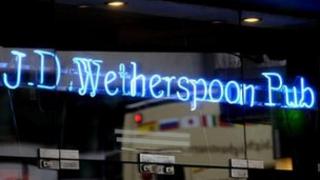 Pub chain J D Wetherspoon said record sales of traditional ales and ciders helped push up profits over the past year.
Profit before tax and exceptional items was up 6.3% to £76.9m.
Over the year to the end of July, the firm said like-for-like sales - which strip out the effects of pub openings and closings - rose 5.8%, with total sales rising 7% to £1,28bn.
Like-for-like bar sales increased by 3.8%, while food sales rose by 10.9%.
The company opened 29 pubs during the year and sold three, resulting in a total estate of 886 pubs at the end of the financial year.
Wetherspoon's plans to open around 30 pubs in the year ending July 2014.
Its chairman Tim Martin used the results to go on the attack over tax, a theme that generally makes an appearance in the comments accompanying the company's results.
He said it was "unsustainable to have far higher taxes for the pub industry than those for supermarkets".
The firm said in the last fortnight, like-for-like sales were 2.5%, which Mr Martin added "may be an indicator for future sales growth".
"Overall, the company is aiming for a reasonable outcome in the current financial year," he added.
The company also announced it had paid £28.6m in bonuses and free shares to staff over the year, equivalent to more than a third of its pre-tax profits.
The chain opened its first Wetherspoon pub in 1979.