German investor confidence rises to three-year high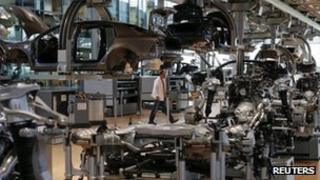 Confidence among German investors has reached its highest level for three years, a survey suggests, boosting optimism for a eurozone recovery.
A poll of investor confidence by German think-tank ZEW rose to 49.6 points in September, up from 42 in August and the highest level since 2010.
The figure was higher than expected and the euro strengthened against the dollar after the survey was released.
The ZEW index was based on a survey of 260 analysts and investors.
'Buoyant atmosphere'
Clemens Fuest, president at ZEW, said: "The financial market experts hold the view that the German economy is still gaining momentum.
"In particular, the experts' economic optimism has increased due to the improved economic outlook for the eurozone - although recently released economic data for Germany have fallen short of expectations," he added.
The indicator of the current economic situation in Germany also improved in September by 12.3, to 30.6 points.
Germany is leading the eurozone's recovery. It emerged from an 18-month long recession in the second quarter of 2013 with 0.3% growth.
The ZEW survey may be good news for Chancellor Angela Merkel, who is seeking a third term in an election on Sunday.
Chris Williamson, chief economist at Markit, said the index was indicative of a "very buoyant atmosphere" in the global economy.
"I think we will continue to see growth pick up," he said.
Mr Williamson said the index, along with the talk of another bailout for Greece and discussions about the euro collapsing having ceased, would "most definitely" help Ms Merkel in Sunday's election.