Bank of England upgrades UK growth forecast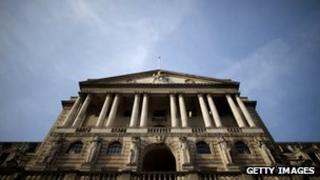 The Bank of England has upgraded its growth forecast for the UK economy.
Minutes from September's meeting of the Bank's Monetary Policy Committee show that third-quarter growth is expected to be 0.7%, up from 0.5% forecast in last month's Inflation Report.
The minutes also show that the MPC voted unanimously to keep interest rates and quantitative easing (QE) on hold this month.
No MPC members saw a case to expand economic stimulus measures.
The minutes said that recent economic data and business surveys "provided further evidence" that growth was picking up.
Not only would it now be stronger than first thought in the July-to-September quarter, the likelihood was that growth would continue to strengthen for the rest of the year, the minutes said.
Two MPC policymakers who had previously suggested an expansion of QE may be required to aid the economy further have now revised their views, according to the minutes.
That underlines the suggestion that the MPC sees the UK economic recovery strengthening.
"Over the month the evidence was consistent with a recovery at least as strong as that expected at the time of the August Inflation Report," the MPC minutes read.
"Were the recovery to falter, the case for further asset purchases would be stronger. But no member judged that further stimulus was appropriate at present."
The committee's unanimous decision to keep interest rates at 0.5% was not a surprise.
A new policy of forward guidance was launched in August under new governor and MPC chairman Mark Carney, with the bank pledging to keep rates low at least until unemployment falls to a rate of 7%, assuming inflation remains under control.
The Bank's broader target is still to keep the rate of inflation at 2%.
In response to the minutes, the pound rose against other currencies. Sterling climbed 0.4% against the dollar to $1.5968.