Ireland exits recession as economy grows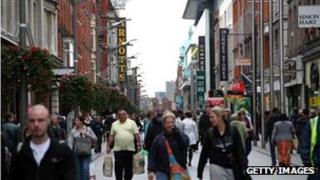 The Irish Republic's economy has emerged from recession, according to official figures.
The economy grew by 0.4% in the second quarter of the year, although this was much weaker than many economists had forecast.
Economists had expected growth of at least 0.8%.
Ireland, which was bailed out after its banking and property crisis, has suffered a number of recessions in recent years.
The government has projected growth of 1.3% for 2013 as a whole.
While the bailed-out eurozone member's exports increased by 4.3% in the quarter, consumer spending was up by only 0.7%.
A different measure of the economy, GNP, which is taken as a more accurate figure by some economists, fell by 0.4% in the three months from April to June.
'Significant problems'
There are signals that the economy may be over the worst, as retail sales figures have improved and the bottom of the housing market appears to have been reached in some parts of Dublin.
John Campbell, the BBC's Economics and Business Editor in Northern Ireland, said that despite these positive signs, there were still many challenges.
"The country still has significant economic problems - unemployment stands at around 13% and almost 17% of owner occupiers are having trouble paying their mortgages."
In late 2010, the Irish government was bailed out with 85bn euros ($112bn; £71bn) of emergency loans from the International Monetary Fund and European Union.
In addition the Irish government also secured a loan from the UK.
The Irish economy suffered in the post-2008 period from a debt crisis, soaring unemployment and a property market crash.
There will be another cost-cutting "austerity budget" in October which will include around 3bn euros in spending cuts and tax rises.