Raghuram Rajan: India's 'rock star' central banker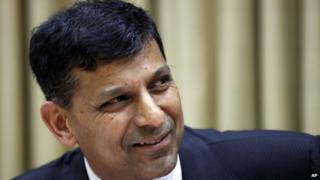 The new head of the Reserve Bank of India has been in the job for just a couple of weeks, but already Raghuram Rajan's looks have been talked about as much as his economic ideology.
He's been hailed in the press as some kind of good-looking guru, a monetary James Bond who's put the "sex" back into the Sensex, India's stock market.
Columnist Shobhaa De, writing in the Economic Times, India's biggest-selling business newspaper, said he can "easily top 'India's Most Desirable' lists".
De's piece created a furore on social media. Many agreed with her but some wondered if the head of the central bank should be subjected to such sexist comments.
Others have commented on how Mr Rajan's handsome looks and photogenic appeal make him appear much younger than he actually is. (He turned 50 this year.)
But while Mr Rajan, a married father-of-two, has been greeted as India's latest rock star or super hero, the big question is does he have a plan to rejuvenate the country's economy, which is caught between rising prices, a volatile currency and sagging growth?
Early warnings
Of the many qualities required to be a successful central bank governor, the ability to spot a financial crisis well before anyone else is arguably one of the most important.
Going by that premise, India seems to have picked a top man to head its central bank.
Mr Rajan was one of the first economists to warn about the global financial crisis that unfolded in 2007-08 and one that the world is still recovering from.
It was at the annual meeting of the world's top central bank governors in Jackson Hole in the US in 2005 that Mr Rajan - then the chief economist with the International Monetary Fund (IMF) - first warned of an impending crisis.
He raised concerns about highly complex financial products such as credit default swaps - an insurance against bond defaults - warning that if these ran into trouble the whole banking system could be at risk.
"The inter-bank market could freeze up, and one could well have a full-blown financial crisis," he had warned.
We are all aware of what happened two years later.
Mr Rajan has since written a prize-winning book, Fault Lines: How Hidden Fractures Still Threaten the World Economy.
"He brings to the table a sharp and incisive mind and vast experience at the top echelons of the global financial system," said Chandrajit Banerjee, director general of the Confederation of Indian Industry (CII).
"India couldn't have a better person at the helm of the central bank in these challenging times."
Popular... for now
Since taking over as the 23rd governor of the Reserve Bank of India, Mr Rajan has already announced the first steps to help boost growth.
He has unveiled plans to liberalise the country's banking sector by allowing them to open up branches without seeking prior approval from the central bank, and intends to help free up more cash for banks to lend to the productive sectors of the economy.
The markets have so far cheered all of that. The Sensex has risen since he took charge and the rupee has also strengthened.
The Federation of Indian Chambers of Commerce and Industry (FICCI) has also welcomed the moves.
"The action plan stated by him which entails undertaking steps to improve financial inclusion, banking infrastructure, along with some measures aimed at strengthening the rupee are indeed encouraging and reflect his profound knowledge and understanding of the most pressing issues," said Naina Lal Kidwai, the FICCI president.
While he may be winning fans now though, Mr Rajan has warned that some future measures will be unpopular.
But, as he has said himself, he is here to run the bank and not win Facebook "likes".