Challenging Bollywood: Pakistan's fledgling film sector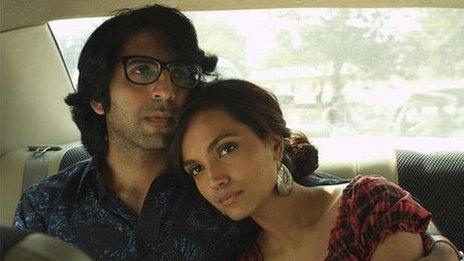 In a bright yellow dress and with her heavily kohled eyes, it is impossible to miss film director Iram Parveen Bilal.
She is the driving force behind Josh, an independently produced Pakistani film that has won much critical acclaim from across the world.
We meet just off London's Piccadilly Circus, where her film is being screened for the city's Indian film festival. It is the first time the event has included a film by a female director from Pakistan.
Compared with India's $3bn (£2bn) a year Bollywood behemoth, the dozen or so films produced in Pakistan in the last few years may seem like a meagre effort.
But the waves being made by these select few directors and producers are not going unnoticed.
For the first time in 50 years, Pakistan is submitting a film for the Oscars - Zinda Bhaag - showing that the industry is finally gaining critical traction.
However, financing for Pakistan's nascent film industry is still uncertain.
"Funding doesn't come easy, I've knocked on hundreds of doors," says Bilal.
"For every hundred emails I've sent I may have got two responses. You just have to be at it."
Bilal managed to raise finance for her film mainly through private equity, with a small percentage coming from crowdfunding.
"Your family-and-friends network is the circle of investors you tend to reach - it's more self-funding," she says.
Josh is not the only Pakistani film that has received private backing.
Director Shahzad Nawaz managed to convince Dubai-based private investors Centurion Capital to put money in his film, Chambaili.
"It's a challenge when there is a lack of infrastructure, particularly when revenue streams are concerned," he says.
Part of the problem for Pakistan's film industry is what Nawaz calls the country's screen-to-people ratio.
"In Bollywood, they have around 5,000 people to one screen. In Pakistan, the investment model isn't the most enticing.
"It's probably one of the only film markets in the world where television is bigger than the silver screen."
The lack of any art school or formal curriculum for film-making is a problem too, he says.
But Nawaz does believe that the industry is coming of age.
"This is the most pertinent time to be in film here, you can make ripples and set a precedent."
Last year, violent protests over an anti-Islamic film on YouTube led to mobs torching cinemas in Karachi and Peshawar.
But since then new cinemas have sprung up across the country, and optimism about audience numbers is high.
All of Pakistan's leading cities now have at least one major cinema.
There are even plans to build a cinema in the capital city of Islamabad which has not had a screen for more than a decade.
Yet at the moment it is Bollywood films which dominate the country's box offices.
Indian films are very popular with the Urdu-speaking Pakistanis - whose language is very similar to Hindi, the language spoken in Bollywood productions.
While the dominance of Indian cinema poses a challenge to Pakistan's own film industry, some argue their neighbour's movies are playing an important role in reviving film-going.
"There is definitely a revival of the industry, and international movies are a part of the process," says Jerjees Seja, the chief executive of ARY Television, one of Pakistan's main news channels.
"We need them to create a box office, so local talent can be showcased.
"We're building from scratch - cinema houses and theatres are just starting to pop up in major cities - so we can't completely rely on local output yet."
Seja argues that investment in independent producers is needed before the industry can be a viable business in which international investors can invest.
"Right now there is no return - we are investing and nurturing talent so in the future they understand the business and commercial aspects of film making," he says.
Together with Nadeem Mandviwalla, Seja has just formed The Platform, which is Pakistan's first independent film distribution body, and for which the film Josh was the curtain-raiser.
He believes that the country's film industry is at a tipping point where for the first time in several decades there is hope of catching the eyes of investors beyond Pakistan.
While others are more cautious, film director Bilal tells me that the future of the industry is self-fulfilling,
"It is crucial that people in Pakistan support their local cinema. We need to encourage tastes beyond Hollywood and Bollywood," she says.
"Pakistan needs an identity of its own that can travel internationally - then the economic model will start working."