New York Times Company restores dividend payment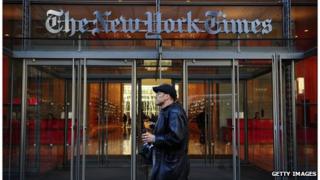 For the first time in almost five years, the New York Times Company says it will pay shareholders a dividend.
Starting on 24 October, shareholders who owned stock as of 9 October, will receive $0.04 a share.
"The Board concluded that the strength of our balance sheet justified the restoration of a dividend," boss Mark Thompson said in a statement.
The newspaper company reported a profit of $20.1m (£12.5m) for the last quarter.
It also recently sold the Boston Globe for $70m to Boston Red Sox owner John W. Henry and the search site About.com to the media firm IAC for $300m as a way to cut costs.
Just a year ago, the company reported a net loss of $88m, and investors had worried about the company's efforts to return to profitability in the wake of struggles to maintain print advertising.
Recently, the sale of the Globe and About.com properties, as well as a successful paywall strategy to charge readers for its online site, seems to have helped the company return to profit.
But the company cautioned that they were not completely back to better times.
"Given the expectation of continued volatility in advertising revenue and the fact that our growth strategy is at an early stage of development, we will maintain a prudent view of both the balance sheet and free cash flow," said Mr Thompson.