Job security fears 'falling' but money worries remain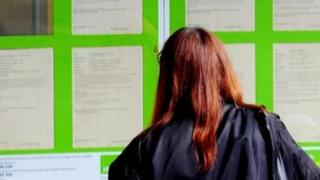 Workers are less worried about losing their job than at any other time in the past four and a half years, but household finances remain under pressure, a survey suggests.
About 26% of households believe their finances deteriorated in September, with just 8% seeing an improvement, according to data provider Markit.
However, confidence over job security was at its highest since February 2009.
Tim Moore, senior Markit economist, said the report was encouraging.
"Strains on household budgets have receded since the beginning of 2013, and September's survey suggests that better job security is also helping to bolster consumer confidence," he said.
Owners v tenants
The Markit Household Finance Index, which measures households' overall perceptions of financial wellbeing, was 40.8 for September.
Any level below 50 indicates a deterioration in perceptions of financial wellbeing, but the reading is still one of the highest of the past four years.
People working in finance and business services were the most optimistic about their finances, but those in manufacturing the most downbeat.
September's data also indicated a widening gap between higher and lower earners.
Financial expectations of households in the top 20% of income hit a three-and-a-half year high of 55.5, while those in the lowest fifth posted one of the weakest readings this year at 32.7.
The survey also suggested that the gap between homeowners and those renting a home was widening, with financial perceptions among homeowners hitting a 14-month high of 44.1 in September, compared with a five-month low of 38.8 for private tenants.