Young woman breaks through in Sri Lankan business world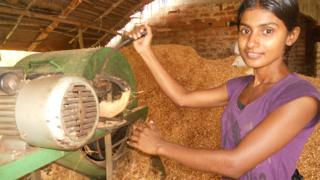 Nimali Gunawardana, a petite, soft-spoken 25-year-old, is a lot tougher than she looks.
From an impoverished upbringing as one of seven children in a poor family in rural Sri Lanka, she has turned herself through sheer drive and determination into one of the country's most up-and-coming young businesswomen.
Able to recover from one serious business setback along the way, the self-made boss and her company - Nimali Chips and Fibre Mill - are now continuing to prosper in Sri Lanka's male-dominated business community.
And Ms Gunawardana now has her sights set on exporting.
Ambition
"I am happy that I have broken down the barriers a woman has to face in Sri Lankan society," she says.
"I've always had ambition, and I want to get to the top."
Ms Gunawardana's company turns discarded coconut husks into three useful materials - coir, coir pith and husk chips.
Coir is the fibrous outer cover of the coconut. It can be made into everything from string and rope to fishing nets, brushes and mattresses.
Coir pith, one layer down, has a cork-like texture, and is used as a compost. Husk chips, made by crushing up the hard part of coconut shells, are also used as a growing material for plants, and even to filter water.
Ms Gunawardana set up the company just over a year ago, and it now processes 15,000 coconuts a day.
The business, based in the southern rural district of Ambalantota, employs 13 people - 11 women and two men.
Bounce back
For Ms Gunawardana it is a far cry from her first job working as a sewing machine operator in a clothing factory.
She says: "My parents are poor, and when I was at school I always wanted more money for the family.
"So I had to earn money, and I got a job at a garment factory. I didn't like it, I didn't like the supervisors always blaming you, I didn't like working for someone else, but I was able to save up money.
"I knew I wanted to save up the money to establish my own business."
And so, using cash she had saved and money invested by some of her friends, she bought the lease for a coir-producing factory in 2010.
Unfortunately she soon realised she did not have the experience to run a company. More pressingly, she was unaware that the business had a number of outstanding loans.
As a result, she had to close down the company, losing 300,000 Sri Lankan rupees ($2,300; £1,400).
Many people would have given up the dream of owning their own business, but Ms Gunawardana was determined to bounce back.
After the company failure, no bank would lend to her, so she went to Youth Business Sri Lanka, a business support organisation that is part of Youth Business International, the global charity run by the Prince of Wales.
Youth Business gave her a week's training in running a company, her own mentor, and a modest loan of 100,000 Sri Lankan rupees.
And so her new company, Nimali Chips and Fibre Mill, was born in August last year, and is proving a success.
Ms Gunawardana says she is on target for turnover this year of 5.1m Sri Lankan rupees ($39,000), and she is able to pay back the money lent by her friends.
Start-up award
She says: "When I first started out in business, my parents did not agree with my choice, mainly because I am a girl. In rural parts of Sri Lanka, women like me are very rare.
"But now my parents are proud, and they give me their support, as does my husband."
Ms Gunawardana has now been married for nine months, and her husband quit his job to work for her.
Such has been the success of her new company that Youth Business International recently awarded her the global title of Start-up Entrepreneur of the Year 2013.
Ms Gunawardana travelled to London this month to receive the award from the Prince of Wales.
She now has her eyes on expanding the business.
Ms Gunawardana currently sells her products to other companies who then export them. She wants to start doing the exporting herself. She also plans to start making products from what she produces, with her company starting to turn its coir into rope.
"I have faced a lot of challenges, but I have also had help from Youth Business. I hope that more young women in Sri Lanka think of starting their own companies."