Bank of England 'vigilant' on housing market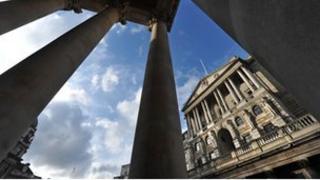 The Bank of England is watching the UK's housing market "closely" for signs of any overheating, policymakers say.
The Bank's Financial Policy Committee (FPC) said the recovery in the housing sector seemed to have "gained momentum" with average prices up 5% in August from a year earlier.
It added that it was "vigilant to potential emerging vulnerabilities".
However, the FPC said housing activity and loan-to-value ratios on mortgage lending were below historic averages.
It also noted that debt servicing costs were low, and that the ratio of house prices to earnings was at the same rate as a decade ago.
The FPC said: "In view of that, the committee judged that it should closely monitor developments in the housing market and banks' underwriting standards.
"The committee noted that if risks to the stability of the financial system were to emerge from the housing market, both it and the microprudential regulators had a range of tools available to address those risks."
The statement echoes recent comments by Bank of England governor Mark Carney that the Bank of England has the necessary tools to tackle a housing bubble.
There have been renewed fears of a property bubble in recent months fuelled by sharp price rises in London, where values jumped 10% in the year to July, according to the ONS.
However, it is argued that price rises in London are distorting figures for the whole country, with the market remaining weak in many parts of the UK.
Chris Williamson, chief economist at the researchers Markit said: "The committee... seems relaxed about the growing fears voiced by many commentators of a potentially disruptive housing market bubble.
"If risks of a bubble did appear, the FPC spelled out a reassurance that it, and the regulators, had a range of tools to restore stability. These included guidance on underwriting standards, capital requirements and recommendations to the regulators on tightening of affordability tests."