Help for new musicians chasing cash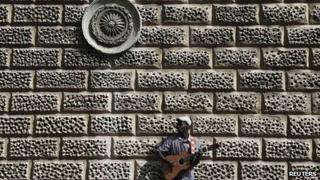 With digital downloads, falling album sales and rampant piracy, what's it like trying to establish yourself as a new performer in today's troubled music industry?
Well, in the words of one UK music business professional: "It's like trying to create a hurricane by running around a field in circles."
Tom Quillfeldt tried his hand at being a manager, looking after a friend's career, before moving full-time into music PR.
It's not an experience he's inclined to repeat in a hurry. "You feel like it's you versus a billion other people," he says. "It's so difficult to get exposure and any kind of recognition."
One of the biggest problems facing new acts and their management on both sides of the Atlantic is how to find the funding they need to make an album or finance a tour.
"The music industry is about multiple overlapping projects, which create very spiky funding needs," says Mr Quillfeldt.
"You need the money up front long before you see the return from the project. It's very difficult to build a financial model around your business."
But now help is at hand for fledgling bands, promoters and independent music labels.
MusicTank, a business development network for the UK industry, has just published what it calls the definitive guide to funding music projects.
Seeking answers
The guide is written by consultant Remi Harris, who has worked as general manager at the Association of Independent Music (AIM), an indie label trade group, and director of operations at umbrella group UK Music, which represents musicians and record labels in the UK.
"I had in mind the artists that used to phone up AIM looking for funding," she says.
"I always felt that I never had the answers they were looking for, that they always went away disappointed."
In her guide - entitled Easy Money? - Ms Harris identifies six main sources of money for music projects:
grants
friends and family
crowdfunding
sponsorship
debt
investment
She says that during her 15 years in the music industry, it has "moved from an internal funding model to having to go to external sources" for cash to kick-start projects.
Normally, she says, musicians are looking for about £5,000 to £10,000 to fund a specific project, such as a record or live appearances.
There is money out there, she says, but "you have to go to the right person with the right proposal for the right funding".
Promotional effort
One musician who has played the funding game and won is self-styled folktronica musician James Yuill, who turned to crowdfunding to support his latest album, These Spirits.
His manager, Amul Batra, explains: "James records very cheaply - he has all his own equipment - but he needed to get the message out there, rather than just having something that sat on his hard drive.
"His crowdfunding campaign gave him the budget to take on a promotional team and market the record."
Since he already had a fan base, James was able to offer them various ways to pledge money to him. As well as pre-ordering the album, fans could sign up for lessons in specialist music software and even the chance to buy his first guitar.
"The first thing that went was the guitar, for £300," says Mr Batra.
Live music promoter Howard Monk, whose company The Local promotes events at a number of venues in London and elsewhere, welcomes MusicTank's effort to spread the word about how to gain funding.
He notes that bands who qualify for grants from the Arts Council and other bodies are "not always the best, but the most adept at managing the application process".
In broader terms, he feels that with live music now often a more reliable way of generating income than record sales, the music business is reverting to the way it was before the advent of recorded sound.
"That's a small part of history in terms of music," he says. "Now people are going out and singing for their supper again."
'Labour of love'
But of the six methods for gaining funding, the last one, investment, is in many ways the most problematic.
As Tom Quillfeldt says, musicians have something of an image problem with the financial community.
"There is a financial education chasm in the music industry," he says.
"Many people who go into it have no idea about budgeting, cash flow and how to spend money effectively.
"At the lower end, artists and managers run on very little fuel. It's a labour of love in the hope of a better return, and it's a return that not many people are guaranteed to get."
In this context, MusicTank's initiative can make a difference, he feels.
"If people can be better educated on where to get money, how to get money and how to spend it, they'll be in a better position to move up the ladder in a sustainable way, rather than just chasing the hit machine."