China's CNOOC wins $2bn Uganda oil field contract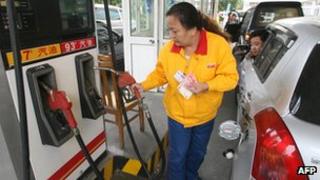 China's state-owned oil firm China National Offshore Oil Corporation (CNOOC) has won a $2bn (£1.3bn) deal to develop an oil field in Uganda oil.
The Kingfisher field is estimated to hold 635 million barrels of oil, of which 196 million are recoverable.
It is the latest in a series of investments by Chinese firms in overseas oil and gas resources.
Chinese firms have been looking to secure energy resources to meet growing domestic demand.
CNOOC will develop the Kingfisher oil field over a period of four years.
According to Peter Lokeris, Uganda's junior energy minister, the field will have an initial capacity to produce between 30,000 to 40,000 barrels of oil per day.
Other deals
China's rapid economic expansion and urbanisation in recent years has led to increasing demand for fuel, making it one of the biggest consumers of oil in the world.
That demand is expected to rise even further as its economy continues to grow.
But China relies heavily on imports to meet that demand.
As a result, Chinese firms have been looking to invest in oil and gas resources in an attempt to secure supplies.
Last year, CNOOC agreed to pay $15.1bn to acquire Canadian firm Nexen, making it China's largest foreign business takeover.
In December, another state-owned firm, PetroChina, agreed a $2.2bn deal to buy a 49.9% stake in Canadian firm Encana's natural gas project in Alberta.
That project contains supplies equivalent to nearly nine billion barrels of oil.
PetroChina also signed another deal last year to buy BHP Billiton's stake in an Australian liquefied natural gas project.