German bathroom firm Grohe sold to Japan's Lixil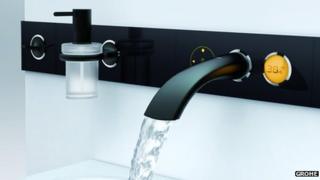 Luxury bathroom fittings maker Grohe has agreed to a takeover offer from Japanese building materials company Lixil.
Under the deal Lixil and the Development Bank of Japan have agreed to buy an 87.5% stake in the German firm, valuing it at $4.1bn (£2.5bn).
It is the largest takeover to date of a German firm by a Japanese company.
Grohe is owned by private equity firm TPG Capital and the private equity business of Credit Suisse.
The German firm employs about 9,000 staff worldwide and has nine factories, including plants in Portugal, Thailand, Canada and China.
It also owns a controlling stake in Chinese tap maker Joyou.
Grohe's British chief executive, David Haines, will remain in his post and has signed a five-year contract.
"For Grohe and Joyou, Lixil is a perfect match" said Mr Haines in a statement.
"As a growth-oriented company, Lixil has always been the preferred partner to support us with our growth strategy, especially in emerging markets."
Combined, Grohe and Lixil will become the world's biggest maker of bathroom and kitchen accessories.
International expansion
In its most recent earnings announcement Grohe said that sales in the first half of 2013 rose 5% to 730m euros ($987m; £614m).
Under the leadership of chief executive Yoshiaki Fukimori, Lixil has expanded its international operations.
In June, it spent $542m buying American Standard Brands, a US maker of bathroom and kitchen accessories.
It has also expanded in the engineering sector with the purchase of Italy's Permasteelisa in 2011.