House prices rise 'only in Dublin'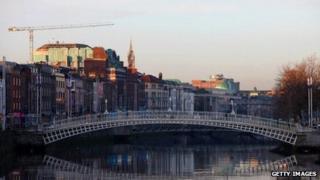 House prices in the Republic of Ireland have increased by 2.8% in the year to August.
Almost all the gains are being driven by the Dublin market where prices are now 11% higher than they were in 2012.
Outside Dublin, prices are almost 3% lower than they were a year ago.
House prices in the Republic are still 49% lower than at their highest level in early 2007.
The inflating and subsequent bursting of a property price bubble was largely responsible for the near collapse of Ireland's banking system in 2008.
NB: This story was amended on 27 September to remove the statement that Irish house prices reached a six year high.