Toyota and Nissan issue fresh vehicle recalls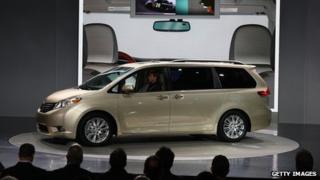 Japanese carmakers Toyota and Nissan have issued fresh vehicle recalls.
Toyota is calling back 615,000 Sienna minivans in the US to fix a lever problem that could cause vehicles to shift out of park mode "without the driver depressing the brake pedal".
Toyota said that it was aware of 24 "minor accidents" due to the issue.
Meanwhile, Nissan said it is recalling 908,900 vehicles globally due to a flaw in an accelerator sensor but added that no accidents had been reported.
Nissan said the accelerator pedal's sensor could become unstable, leading to a less-than-intended acceleration. It added that in a worst case scenario, the engine could stall.
Its recall affects Infiniti M, Serena, X-Trail, Lafesta and Fuga models produced in Japan between 2004 and 2013.
Toyota's recall applies to models made during 2004 to 2005 and 2007 to 2009.
This is the second time in a month that Toyota has issued a recall of its vehicles in the US market.
Earlier in September, it issued a recall for more than 780,000 vehicles in the US to address a suspension defect in its RAV4 and Lexus HS 250h models, on fears that an initial recall last year did not fix the problem.