Hoddle launches online football skills challenge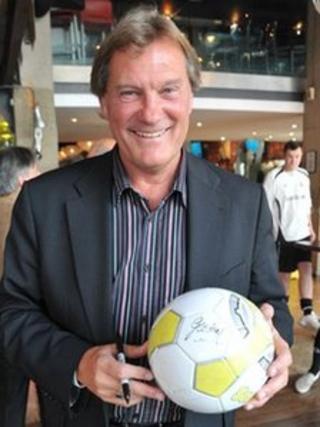 When Ikechi Anya made a goal-scoring debut for Scotland against Macedonia this month, no one was happier than ex-England manager Glenn Hoddle.
For the 25-year-old Watford player had been given a chance to resurrect his career when he was taken on by Hoddle's residential academy in Spain.
It had been set up to try to help players discarded by their clubs back into the professional game.
That Spanish adventure has ended, but Hoddle has a new football venture.
This time, he is looking to develop younger players: children and teenagers.
Hoddle's Zapstarz is an online project to search for the next young Gareth Bale or Jack Wilshire, or indeed Ikechi Anya.
"The Spain academy was always going to be a five-year project, and we were able to get 17 or 18 players back into clubs," he says.
"Zapstarz is about taking young kids from the ages of eight to 16 and improving their skills."
Boys and girls enrol on the Zapstarz website or download the app, then undertake a series of five skills challenges set by Hoddle, such as ball juggling, control and passing.
At each stage, the youngsters send in video or mobile clips of themselves tackling the task Hoddle has sent. These are appraised by the ex-Spurs star and his staff.
Only the most skilful progress through each stage.
Club contract?
At the end of 25 weeks, the cream of the crop will be invited to coaching sessions with Hoddle at his main football academy in Bisham Abbey, Buckinghamshire, where the goal is "promoting excellence to help players at all levels to achieve their goals".
At these sessions for the winners, scouts from football clubs will be in attendance.
That, in turn, could lead to some lucky youngsters being signed up by football clubs.
It costs £1.99 to enter each level of the challenge. The venture has been launched by Hoddle in conjunction with former sports journalists Harry Harris and Bill Bradshaw.
The project is being funded by investors and some sponsors - Planet Hollywood cafe, SoccerStarz toy player figures and Hilton Hotels. It is hoped that more will sign up.
"There is an end goal here - to improve the skills of young kids," says former England manager Hoddle.
"We need to make young players as comfortable on the ball as the Spanish. There has been a lot written about the lack of skills in this country, so this is a good time to launch."
Hoddle, whose views were sought by new Football Association chairman Greg Dyke before he launched his much-publicised speech about the need to keep future England teams competitive, says British children have as much raw skill as their continental counterparts.
"We have a lot of talent in this country, but it is about how its developed. At an early age, our youngsters have as much skill as those in Europe, but something gets lost along the way," he says.
"The number one criteria is to master the ball. When I played in France, I saw how kids were being coached. It was all about the ball, not speed or strength. Those things can come later."
He also says that up-and-coming youngsters are not being given a fair chance to break into Premier League teams.
"It hurts me to see young English players being blocked by average foreign players, who might have come over on a free transfer."
He concluded: "It really is all about seeking out talent and improving the next generation of footballers."