Crown post office workers stage latest strike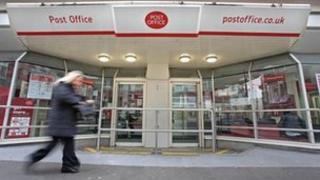 Staff at some of the UK's biggest post offices have begun their latest strike over jobs, pay and closures.
The Communication Workers Union (CWU) said the day of action - the 12th since Easter - would affect up to 4,000 employees in 372 Crown post offices.
The union is opposed to plans to close or franchise or 75 of the larger post offices, usually found on High Streets.
Post Office bosses said their plans were vital to reverse massive losses and turn the business around.
Sales ban
Members of the union walked out in England, Wales, Northern Ireland and most of Scotland on Monday, and a strike in some others branches in Scotland will be held on Tuesday.
Staff are also taking other forms of industrial action including a refusal to sell financial products and services.
CWU deputy general secretary Dave Ward said: "The company's plans are to downgrade the network, reduce services to local communities and hit jobs in the network."
Kevin Gilliland, network and sales director at Post Office, said: "Strike action can only cost our people money, cause disruption to customers and threaten our plans to turn the business around and keep our branches on High Streets and in city centres across the UK."