US shares close lower on threat of a shutdown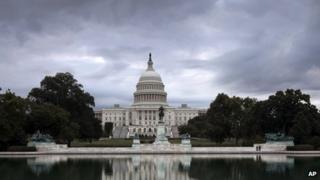 Shares in New York closed lower as the prospect of a shutdown of some US government activities looks increasingly likely.
The Dow Jones closed down 128 points, or 0.84%, while the S&P 500 and Nasdaq fell by 0.60% and 0.27% respectively.
However, all three indexes were up for the month, buoyed by a strengthening US economic recovery.
The US needs to agree a new spending bill before the financial year ends at midnight on Tuesday.
But political divisions have resulted in a stalemate and there are worries over the economic impact of a shutdown of the US government.
"The shutdown will have a very real economic impact on very real people right away," said US president Barack Obama late on Monday, after it seemed as if negotiations had all but broken down.
If the government does shut down on 1 October, as many as a third of its 2.1 million employees are expected to stop work - with no guarantee of back pay once the deadlock is resolved.
National parks and Washington's Smithsonian museums would close, pension and veterans' benefit cheques would be delayed, and visa and passport applications would be stymied.
Programmes deemed essential, such as air traffic control and food inspections, would continue.
Unemployment report
Investors will be keen to know if Friday's job report will be released.
The monthly non-farm payrolls report is one of the most closely watched pieces of US economic data.
Employees at the Labor Department's Bureau of Labor Statistics (BLS), who prepare the report, would be among those who would stood down in the event of a shutdown.
"All survey and other programme operations will cease and the public website will not be updated," said Erica Groshen, commissioner of the BLS, said in a memo published on the department's website.
Deadlock
Republicans are targeting President Barack Obama's healthcare law, popularly known as Obamacare.
Early on Sunday, the Republican-run House of Representatives passed an amended version of the Senate spending bill that removed funding for the healthcare law.
That bill was roundly rejected by the US Senate as soon as members returned on Monday.
The Democratic-led Senate voted 54-46 against the bill.
"It will be a Republican government shutdown, pure and simple," said Senate Majority Leader Harry Reid, Democrat of Nevada, referring to the Republicans as "bullies".
"We are not going to negotiate on this. We have done everything we can to be fair and reasonable."
After the vote, Republican House Speaker John Boehner told reporters his chamber would re-evaluate the proposal, but it remained unclear if Mr Boehner could convince members of his party to change their position in any meaningful way.
Mr Obama echoed Mr Reid's concerns, saying that "one faction of one party in one house of Congress in one branch of government doesn't get to shut down the government".
Uncertain Italy
Meanwhile European financial markets have been upset by a deepening political crisis in Italy.
Italian shares closed down 1.2% and the euro fell to the lowest level since June against the Swiss Franc.
Italy's 10-year bond yield - an indication of how much the government has to pay to borrow money - rose as high as 4.66%, the highest level in more than three months.
Prime Minister Enrico Letta plans to hold a confidence vote on Wednesday, to seek the backing of Italy's parliament.
He was forced to make that move after five ministers from Silvio Berlusconi's party stepped down at the weekend.
But those ministers have now given mixed signals as to whether they are actually leaving the government.
The crisis follows weeks of worsening ties between Mr Berlusconi's party and Mr Letta's grouping.
Mr Berlusconi's People of Freedom (PDL) objects to a planned increase in sales tax, which is part of a wider government policy to reduce big public debts.
'Fear of the unknown'
Earlier on Monday, Worries over the US shutdown had hit Asian shares.
Japan's Nikkei 225 index closed 2% lower, Hong Kong's Hang Seng was down 1.5%, Australia's ASX fell 1.7%, while South Korea's Kospi shed 0.7%
"It is the fear of the unknown," said David Kuo of financial website the Motley Fool. "No one knows what is really going to happen and markets don't like uncertainty."
"There is likely to be some reduction in US government spending, but we don't know what areas are going to be affected.
"Until that is resolved, we are likely to see volatility in the markets," he added.