How useful are MBAs for starting your own business?
By Nastaran Tavakoli-Far
Business reporter, BBC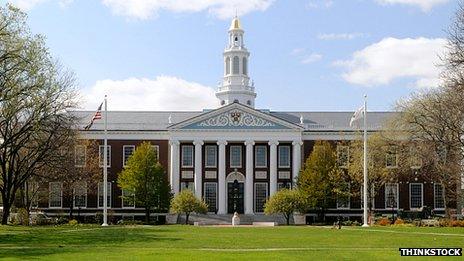 For many would-be entrepreneurs, getting a Master of Business Administration (MBA) qualification is seen as essential.
Yet with the most prestigious MBA courses in the US costing more than $100,000 (£62,000) in tuition fees alone, they don't come come cheaply.
But does the celebrated qualification, and its teaching of a wide range of business skills, give its holders a big advantage when they set up their first firms?
Or would people be better off if they instead simply went straight to setting up in business and learning on the job?
Eoin Bara, owner of Dublin-based design agency V7, was pleased to be able to call on the assistance of someone with an MBA.
Back in 2012, the company was facing a problem - it was growing too fast.
With big clients including Intel and Goldman Sachs, V7 went from two to 12 employees in six months.
Mr Bara says he didn't know how to manage this growth.
So he decided to ask an MBA-qualified management consultant to come in and take an objective look at the company, and guide them on what they needed to do next.
The MBA was able to show where the company was making losses, how they could make better use of their time, and how to plan for the future.
"We got more clarity on the day-to-day, which allowed us to focus on the future," says Mr Bara. "We didn't use to focus on the future at all."
While author and journalist Philip Delves Broughton acknowledges the benefits of an MBA, he also thinks the cost can be a serious impediment.
Mr Broughton wrote the book Ahead of the Curve, which outlines his experience on the MBA programme at Harvard Business School.
"One of the worst things you can do as an entrepreneur, starting young and getting going, is saddle yourself with a load of debt," he says.
"That's a disaster, because it really hobbles you," he adds, referring to tuition fees of more than $55,000 (£34,000) per year for his two-year programme at Harvard.
The high cost of an MBA was a major reason why American tech entrepreneur Brenden Mulligan dropped out of his course at Northwestern University in Illinois.
Mr Mulligan is the co-founder of Cluster, a mobile phone app which enables people to share photo albums.
He calculates that he was spending $150 (£90) per hour on the MBA, and does not think it was worth it. He left roughly halfway through the course having spent around $45,000 (£28,000).
"I just didn't get much of a return to investment on that money compared to other ways I've spent money supporting myself being an entrepreneur," explains Mr Mulligan, who is now based in San Francisco.
He suggests budding tech entrepreneurs actually get experience in their field by joining or doing an internship at a small start-up first, rather than sign up for an MBA course.
By contrast, London-based business investor Reshma Sohoni is firmly in the pro-MBA camp.
Ms Sohoni, co-founder of technology start-up investment fund Seedcamp, says that if a new business is to do well, having someone on board with an MBA is crucial.
"Any organisation that's really gotten anywhere has MBA talent," says Ms Sohoni, who has an MBA herself.
Ms Sohoni finds that from her experience, people with MBAs have a better sense of how to make a business more commercial, and have a much better understanding of running a business in general.
It is something that some other entrepreneurs with MBAs agree with, including Andrew Carroll, who co-founded the e-receipts company Paperless Receipts.
Having completed his MBA at the Cass Business School in London, Mr Carroll, 34, says he has a good understanding of a broad range of business concepts.
"I wouldn't be able to do what I'm doing now without having it, because it gives you a lot of knowledge about everything," he says.
"So I can now sit happily in a meeting with a hedge fund manager or with a marketing director or a finance director. I may not know everything they talk about but I'll know most of it."
For entrepreneur Tobias van Amstel, 29, experience is more than important than having an MBA.
The Dutchman is based in London, where he co-founded Signkick, an online booking platform for advertising on billboards.
"I would advise everybody just to get started and fail at your first company and learn as much as you can and then start your second company," he says.
"That was actually the best education I could think of to start Signkick," he says of his first business, a hotel booking website.
"The things I learnt there were so much more valuable than what any education could have taught me."
But despite much encouragement for young people with ideas to just start their own enterprises, American entrepreneur and seed investor Alex Hoye, 44, is sceptical.
He spent several years working at Disney and McKinsey before doing an MBA at Harvard in the early 1990s, and is now based in London.
"I think there's a huge value to not learning everything the hard way," he suggests.
Mr Hoye believes prior experience is hugely important for entrepreneurs, and this can be gained either through work or through an MBA programme.
"I'm against the popular notion that one should just get out and do it," he says. "I disagree. I think you can learn a lot of the hard knocks by working with pros, or getting an MBA."
He thinks the practice of going over case studies during an MBA is especially helpful in recognising patterns and successful business practices.
But despite these useful skills, Mr Hoye does question the high cost.
"To be honest, there's a very good chance I would give it a miss if I were 26 now," he says.
Related Internet Links
The BBC is not responsible for the content of external sites.