German unemployment in surprise increase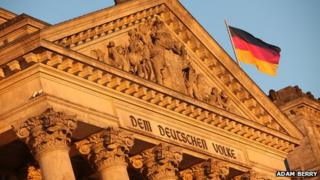 The number of people out of work in Germany unexpectedly rose by a seasonally adjusted 25,000 in September to just under three million.
Analysts had pencilled in a fall of 5,000, after a rise of 9,000 in August.
The Federal Labour Office said there had been a cut in the number of government job schemes.
Meanwhile, new figures showed unemployment across the eurozone dropping slightly in August to a rate of 12%.
Seasonal rise
The rise in German joblessness pushed the unemployment rate in Europe's biggest economy from 6.8% to 6.9%.
"The seasonal increase in September is due to labour market policies providing less relief," said Heinrich Alt of the Labour Office.
He added that the department was changing to longer-term policies intended to train the unemployed.
Despite the rise, the unemployment rate is still close to its lowest level since reunification more than 20 years ago.
Stabilisation
Total unemployment in the eurozone was 19.2 million in August, with analysts saying the bloc is showing increasing signs of stabilisation.
Unemployment fell by 5,000 in the month after drops of 11,000 in July and 18,000 in June, according to official figures.
As ever, the figure disguised wide variations in labour markets across countries that use the euro.
The lowest unemployment rate was recorded in Austria at 4.9%, while Greece's latest figures showed 27.9% of working-age people did not have jobs.
Slow recovery
Ben May, European economist at Capital Economics, said the figures provided further tentative signs that labour market conditions were improving.
"Since the labour market tends to react to changes in economic conditions with a bit of a lag, the health of the employment outlook may continue to improve over the coming months," he said.
But he added that with figures showing weak growth in the region as a whole, unemployment looked set to fall "only very gradually at best".
Europe's statistics agency, Eurostat, said that compared with a year ago, the unemployment rate increased in 16 member states, fell in 11 and remained stable in just one - Poland.
The youth unemployment rate in the euro area fell by 52,000 on August 2012, to 3.46 million.
This meant 23.7% of those aged under 25 were unemployed, compared with 23.4% the previous year.