Tesla shares fall on report of a car fire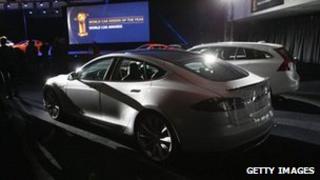 Shares in the electric car manufacturer Tesla Motors fell more than 6% after one of its cars caught fire.
The incident was first reported by automobile blog Jalopnik, which published images of Tesla's Model S electric sedan in flames.
Tesla confirmed the authenticity of the images, but said the car caught fire after the driver ran over "an extremely large object".
The firm's shares fell 6.2% to $180.95, the biggest one-day decline since July.
Liz Jarvis-Shean, a spokeswoman for Tesla, said that there were no indications that the fire was caused by anything other than the crash.
"This was not a spontaneous event,'' she was quoted as saying by the Associated Press news agency.
"Every indication we have at this point is that the fire was a result of the collision and the damage sustained through that.''
'Hiccups in execution'
Earlier this year, the company posted its first profit in its 10-year history, boosted by the sales of the Model S sedan.
It made a profit of $15m (£9.65m) in the first three months of the year, as total revenues hit $562m, a huge rise on the $30m reported a year ago.
While reporting its results, Tesla said it was receiving worldwide orders for the Model S in excess of 20,000 vehicles per year.
Meanwhile, Tesla's chief executive, Elon Musk, has also made a number of comments about making electric cars more affordable.
As a result, investors have been betting on further growth, sending the firm's shares up by more than 440% since the start of this year.
The company is also expected to launch a new car, the Model X, in the coming months.
Some analysts said that any hurdles to its plans may hurt investor sentiment.
"Tesla has several significant milestones over the next 18 months including continued production ramp and the introduction of the Model X," said Ben Kallo, an analyst with Robert W Baird & Co.
"We believe solid execution on both of these fronts is already priced into the stock, and any hiccups in execution present stock price risk in the near to intermediate term."