Benefit cap hits more than 8,000 householders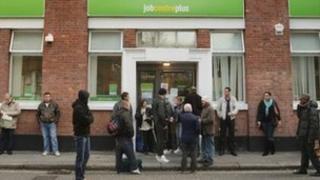 The government's cap on the total amount of benefits a non-working household can receive has affected 8,400 households between April and August, according to its own figures.
The cap was introduced in April this year and means no household can receive more than £500 a week in benefits.
The Department for Work and Pensions (DWP) says 77% of those affected lost up to £100 a week.
Just over half of these were households with between one and four children.
The figures only cover those first affected by the cap and do not cover the whole country.
The 10-week roll-out was only completed last week.
Legal challenge
The DWP said full figures for all those affected would not be ready for "probably another couple of months".
It has previously said that 40,000 households will eventually be hit.
The cap takes money from housing benefit, although the limit is based on adding up all welfare payments, including Jobseeker's Allowance and child benefit.
For single adults, the cap is £350 a week.
The Secretary of State for Work and Pensions, Iain Duncan Smith, said: "Benefits should be a safety net - but not something that gives claimants an income out of reach of many hard-working families.
"We have now successfully delivered a cap on benefits so that out-of-work households know they can no longer claim more than the average family earns and we have returned fairness to the benefits system."
He said that those facing a cap were getting extra support at job centres, while those eligible for working tax credits were exempt from the cap altogether.
On Wednesday, three families challenged the government in court in an attempt to find the benefits cap unlawful.
Two High Court judges are being asked to rule that the payment limit breaches the human rights of unemployed parents.