Sotheby's boss should resign says activist investor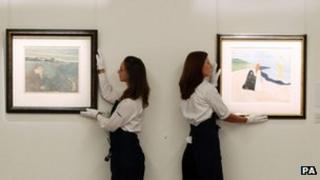 The activist investor Daniel Loeb says auctioneer Sotheby's is lagging behind its rival Christie's and has called for its boss to go.
He says William Ruprecht enjoys the perks of a "long-gone era of imperial CEOs", that includes club memberships.
Mr Loeb's investment fund, Third Point, is the single biggest shareholder in Sotheby's with a 9.3% stake.
Sotheby's said it was taking steps to improve its balance sheet and deliver shareholder value.
A regulatory filing from Third Point said: "We are troubled by the company's chronically weak operating margins and deteriorating competitive position relative to Christie's, as evidenced by each of the contemporary and modern art evening sales over the last several years."
Feasting
It criticises Mr Ruprecht's pay award for 2012 which it says was worth $6.3m with performance awards of $4m, which were "seemingly based on a mysterious target not disclosed in any of the company's public filings".
It said this was in addition to the benefits package that, as well as the country club memberships, included a car allowance and coverage of tax planning costs.
He has accused Sotheby's management of wasting shareholders' money, singling out what he says was an "extravagant" lunch and dinner at a famous restaurant in New York, where they "feasted on organic delicacies and imbibed vintage wines at a cost to shareholders of multiple hundreds of thousands of dollars.
"We acknowledge that Sotheby's is a luxury brand, but there appears to be some confusion - this does not entitle senior management to live a life of luxury at the expense of shareholders."
'Old master'
Mr Loeb, who is a well-known shareholder activist with a colourful turn of phrase, said the auction house, which has been in business for 269 years, was "an old master painting in desperate need of restoration".
Previous targets have included Sony and Yahoo.
Third Point has been a strong buyer of Sotheby's, building up its stake from 5.7% in August to its current chunk of more than 9%.
Last month Sotheby's said it would consider making changes to its capital allocation strategy, a move that would allow it to raise its dividend payout to shareholders.
The company also said in its statement that "rather than debating incendiary and baseless comments, we are focused on serving our clients' needs during this critical autumn sales season".
The company's shares have risen almost 45% so far this year.