Royal Mail shares set to be priced at top end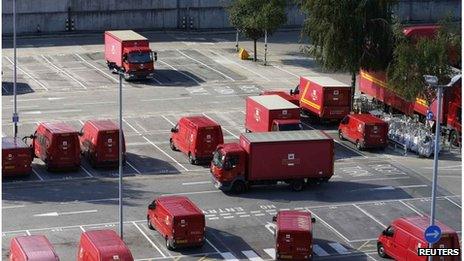 Demand for Royal Mail shares is high enough for the government to be able to sell them near the top of its hoped-for price band.
The government had priced the shares at between 260-330p, but demand is outstripping supply and they will be sold for between 300-330p.
BBC business editor Robert Peston says applications for the shares are a "few times" the value of those on offer.
Labour says there is a danger the privatisation undervalues the business.
Shadow business secretary, Chuka Umunna, expressed concern over the possible sale of Royal Mail sites after the privatisation.
"Royal Mail has a huge property portfolio in prime development sites in London and across Britain and there is nothing to stop the privatised company making a quick buck by flogging off these assets for development," he said.
He also said that if sites are sold customers could face longer trips to collect their mail.
The government is selling up to 62% of the business and will keep the rest.
Under the terms of the share sale a 10% stake in the business has been reserved for Royal Mail employees.
Members of the Communication Workers Union are currently voting on whether to strike over the government's privatisation plan.
The ballot closes on 16 October. The earliest a strike could be held would be 23 October.
Members of the public can apply for Royal Mail shares online until 8 October. Shares will begin trading in full on 15 October.
The minimum application for the public wishing to purchase shares is £750, or £500 for eligible Royal Mail employees.
The government said it might also sell an additional 15% of its stake in what is called an "over-allotment" option, if the demand for shares was very high.
In the official prospectus for the share issuing, the Royal Mail warned that industrial action posed a potential risk for the share price.
The statement said: "National industrial action, or the threat of national industrial action... could also have a material adverse effect on the success of the offer and, if it occurs after admission, could cause the price of ordinary shares to fall significantly."
Related Internet Links
The BBC is not responsible for the content of external sites.