Alitalia to get aid from Italy's state postal service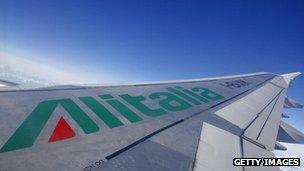 The near-bankrupt Italian airline Alitalia is to receive an emergency capital injection from Italy's state-owned post office.
Italy's government did not say how much Poste SpA, the Italian postal service, would be investing.
The airline has said it needs to raise 455m euros (£385.2m) to stay afloat.
Alitalia filed for bankruptcy in August, as high staff costs, industrial relations issues and surging oil prices further dented its finances.
On Thursday the office of the Italian Prime Minister Enrico Letta said: "The government values Alitalia as a strategic asset for the country".
Analysts estimate that Poste may inject up to 100m euros into the airline.
Many have suggested that a merger with Air France-KLM is the most likely solution to Alitalia's woes.
However, the French group, which owns 25% of the airline, has not yet said if it is considering that option.
Alitalia went bankrupt in 2008, and was re-launched in 2009.